Oh, es gibt mal wieder einen neuen Socialdings-Dienst. Der Ansatz liegt irgendwo zwischen facebook und Twitter. Nichts überraschendes, aber die haben im Moment ja beide so ihre Probleme mit Benutzerverärgerung. Ein grundlegend anderes Konzept verfolgt Zurker hingegen bei der Organisationsform: der Dienst "gehört" seinen Benutzern, die sogenannte vShares erwerben (oder durch bestimmte Aktionen erhalten) können.
Auch für die Benutzerkonten wurden ungewohnt strenge Regeln aufgestellt, die die ganze Sache angenehm spamfrei halten könnten:
No duplicates Duplicate accounts are not allowed. In other words, one person may open and/or use only one account.
No children Accounts may only be opened by users who have been alive for at least 567,648,000 seconds, or about 18 years.
No transfers Accounts are non-transferrable. Accounts may only be opened if the specified criteria have been met.
Individuals only Accounts may be opened only for individuals. Accounts may not be opened for corporations, business, organizations, or groups – these may have a presence on ZURKER PROJECT in the form of "entities" but not as accounts.
Layout und Bedienung sind noch ein wenig hakelig: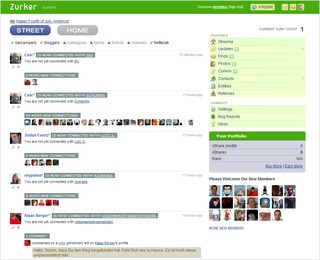 Wahrscheinlich wird es also mal wieder nicht der große Twitter-Killer (oder facebook-Killer), aber im Zweifel will man dann ja doch von Anfang an dabeigewesen sein. Die üblichen Verdächtigen sind auch schon wieder dort (kosmar habe ich aber noch nicht gefunden, was ich sehr eigenartig finde).
Wenn Ihr mitspielen wollt: hier ist mein Einladungslink (wenn Ihr Euch über den anmeldet, dann bekomme ich "vShares", was auch immer die nutzen sollen).
(via caschy)